Looking at the code of the splash screen, I see that the file that you're linking too is a little off..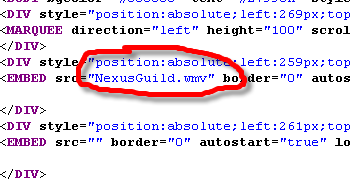 If you notice, the NexusGuild.wmv, in this case, will be searching in the root directory of the server.
While, on your news section, you have it streaming from
http://www.mydeo.com/videorequest.asp?XID=60403&CID=33252
I just modified the settings of the site to accept slightly larger file uploads, so if you were to upload that file to your Administrative Directory, it'd end up being here:
http://nexusguild.dkpsystem.com/settings/nexusguild/files/NexusGuild.wmv
So your embed tag would look something like

<EMBED src="/settings/nexusguild/files/NexusGuild.wmv" border="0" autostart="false" loop="false" width="441" height="263">

How big is your splash video, by the way?
----
The day Microsoft makes a product that doesn't suck is the day they make a vacuum cleaner.