sunnygirljessica

Guild Operator
Poster's IP: Logged
Posts: 1
Threads: 1
Private Posts: 0


For some reason, I cannot get the event signup to work - it always says " You must give this character a Class or there is no class assigned "

I have set up class roles for events and have checked that my toon is assigned as a hunter.. is there something else I am missing??
The other thing to check is to make sure that that event itself has roles set up.



--
It's all in the reflexes.
Syrius

Guild Operator
Poster's IP: Logged
Posts: 1
Threads: 0
Private Posts: 0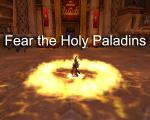 I'm having the same issue. I've made sure that there are roles assigned in event editing. I'm trying to sign up as a paladin, I assigned roles for paladins under healing, tanking, and melee dps. Under the event editing I made it that we need 1-3 healers, 2 tanks, and 1-6 melee dps. What am I doing wrong?