Cyberdemon

Guild Operator
Poster's IP: Logged
Posts: 5
Threads: 1
Private Posts: 0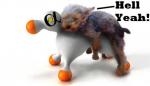 I got a copy of a Sunwell icon to use for WoW progression tab. Might be a idea to add it to the menu.


--
I see it, I insult it! It comes over and insults me and I dirt nap.

Failure is always a option!!!




--
It's all in the reflexes.